DAIRY MILK BITESSTRAWBERRY with DHA Algal Oil & Vitamin C
Our products are made of dairy sourced right here in New Zealand, from dairy cows that graze on New Zealand's pastures. Farm Field Dairy Milk Bites are a wonderful snack for every day use.
Made with New Zealand milk powder
Source of calcium for healthy bones and teeth
Made with DHA Algal Oil and Vitamin C
---
INGREDIENTS: Whole milk powder, lactose, xylitol, DHA algal oil powder(maltodextrin, DHA algal oil, edible glucose, sodium caseinate, sodium ascorbate), beetroot powder, natural flavour, magnesium stearate, ascorbic acid.
Allergens: Milk. May contain traces of soy.
Caution: Children must be able to chew to avoid choking hazard.
---
NUTRITION INFORMATION
Servings per pack: 7
Ave. Qty
Ave. Qty
Serving Size: 8 bites, 8g
Per Serve
Per 100g
Energy
155kJ
1940kJ
Protein
1.4g
17.2g
Fat, total
1.7g
21.2g
- saturated
1.1g
13.7g
Carbohydrate, total
3.7g
46.1g
- sugars
3.1g
38.6g
Sodium
17.5mg
219mg
Calcium
54mg
675mg
DHA
32mg
400mg
Vitamin C
16.3mg
204mg
---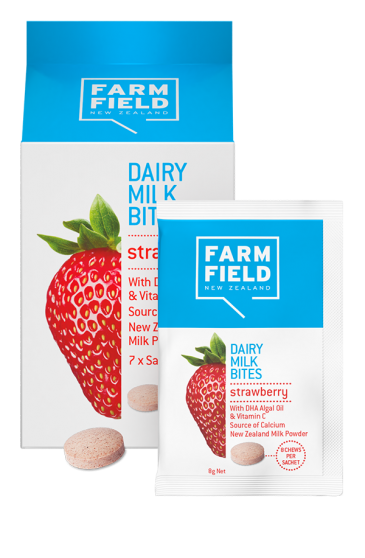 Farm Field New Zealand Limited
PO Box 58864, Botany,
Auckland 2163, New Zealand
info@farmfield.co.nz