DAIRY MILK BITESVANILLA with DHA Algal Oil
Our products are made of premium dairy sourced right here in New Zealand, from healthy dairy cows that graze on New Zealand's clean, green pastures.
Farm Field Dairy Milk Bites are a wonderful snack for every day use.
Made with New Zealand milk powder
Source of calcium for healthy bones and teeth
Made with DHA Algal Oil
---
INGREDIENTS: Whole milk powder, lactose, xylitol, DHA algal oil powder (maltodextrin, DHA algal oil, edible glucose, sodium caseinate, sodium ascorbate), natural flavour, magnesium stearate.
Allergens: Milk. May contain traces of soy.
Caution: Children must be able to chew to avoid choking hazard.
---
NUTRITION INFORMATION
Servings per pack: 7
Ave. Qty
Ave. Qty
Serving Size: 8 bites, 8g
Per Serve
Per 100g
Energy
157kJ
1960kJ
Protein
1.4g
17.9g
Fat, total
1.8g
22.1g
- saturated
1.2g
14.6g
Carbohydrate, total
3.6g
44.6g
- sugars
3.2g
39.7g
Sodium
18.1mg
226mg
Calcium
56.2mg
703mg
DHA
32mg
400mg
---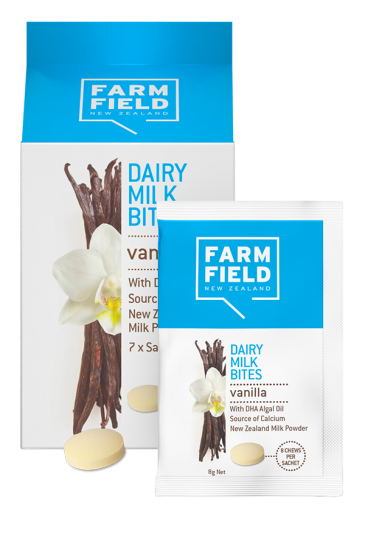 Farm Field New Zealand Limited
PO Box 58864, Botany,
Auckland 2163, New Zealand
info@farmfield.co.nz