FULL DAIRY MILK POWDEREasy nutrition for every taste and dietary need
This range is a great way to get your daily health benefits of dairy milk. We have a delicious Full Cream cows milk, a Skim milk that has the same essential nutrients just less fat.
And for those who can't tolerate cow's milk, we offer a full flavour Goat milk option, which is less allergenic and easily absorbed into the body.
And for a little extra health benefit - we have a cow's milk combined with New Zealand Manuka honey - renowned for its unique medicinal properties.
FULL DAIRY MILK POWDERMANUKA
Combining New Zealand's unique honey with milk powder
New Zealand's national treasure and specialty honey
Enhances overall immunity and stamina
Improves gastrointestinal digestion and wound healing
Contains oligosaccharides but not sucrose to help prevent weight gain
---
INGREDIENTS: This product is currently under formulation development by our nutritionists.
---
NUTRITION INFORMATION TBA / This product is currently under formulation development by our nutritionists
Servings per pack: -
Ave. Qty
Ave. Qty
Serving Size: - g
Per Serve
Per 100g
Energy
- kJ
- kJ
Protein
- g
- g
Fat, total
- g
- g
- saturated
- g
- g
- trans
- g
- g
- monounsaturated
- g
- g
- polyunsaturated
- g
- g
- DHA
- mg
- mg
Carbohydrate, total
- g
- g
- sugars
- g
- g
Sodium
- mg
- mg
Calcium
- mg
- mg
Vitamin D3
- mcg
- mcg
---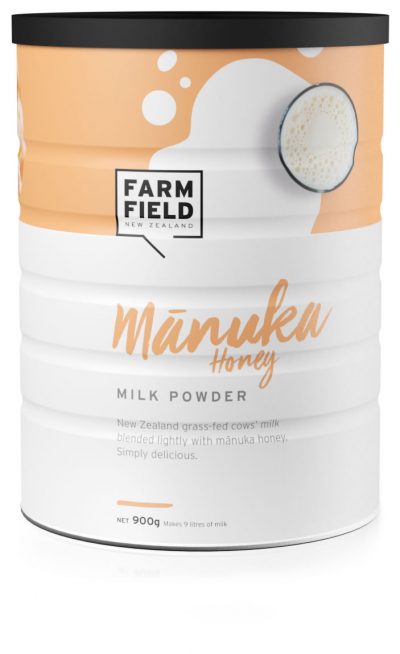 Farm Field New Zealand Limited
PO Box 58864, Botany,
Auckland 2163, New Zealand
info@farmfield.co.nz